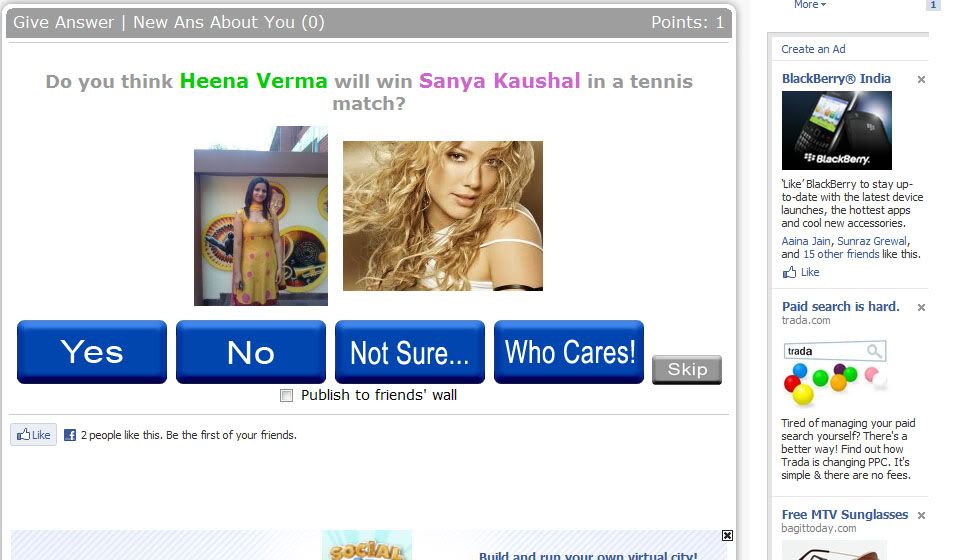 Application Features
Express your view on your friends
Question and Answer can be published to friend's wall.
Questions are related to 2 of your friends - so double the viral effect!
Answer page available for viewing "answer about you" with friend's photo shown as dynamic popup
Admin panel for:
Managing the questions
Controlling the user information to be collected (including email and birthday)
Setting the default status of the "Publish to Friends' Wall" option
Other Customisable Settings include:
Points required to unlock "answered by" and "answer" field
Other Features of the app
Build on top of the PHP SDK and the JavaScript SDK, using the Graph API
* this is not based on the Old PHP client library
* so this won't break in the near future
Running as an iFrame Canvas application with fast performance
Application Requirement
Hosting that can run Facebook Application using PHP SDK and JavaScript SDK
Be careful when choosing your hosting! There are hosting companies that get problems in hosting FB app!
MySQL database (most hosting companies should provide this as part of the hosting plan)
Demo Coming Soon
Price :30$ for Just Copy (No Contract of Support,Will Include Installation Guide)
:60$ With Full Support (6 Months Contract)
:75$ with Support and 1 Time Free Installation (6 Months Contract)
Order Now