10,000 Social Media Hits from Social Networking Sites Facebook Twitter Reddit + More Nonstop for 7 Days
Get real social networking traffic to your site nonstop for 7 days from all the top social networking sites!
Would you like to make more sales, get more subscribers and earn more money?
Do you want to get better rankings and build long lasting authority in the search engines?
Then you need to harness the power of social media traffic!
Social media traffic is highly sought after!
But its not quick and easy getting it. But then nothing worth having ever is!
So we'll do all the hard work for you and send a minimum of 1000-1500 social media visitors from random social networking sites to YOUR website or URL everyday for 7 days!
In total you'll get around 10,000 social media visitors spread out over 7 days.
Get real live social media traffic from the top 10 Internet sites Facebook Twitter Tumblr LinkedIn Pinterest Reddit Google+ and more. All completely natural traffic from the best sites only.
Adsense blogs, CPA affiliate sites and all sites welcome!
100% Adsense safe and Analytics trackable
Gain more real followers and likes on your social accounts!
Get real likes and shares of your site or URL
Minimum of 1000+ visitors a day for 7 days looking at your site!
FAQ - Frequently Asked Question and Answers
How Long Does The Traffic Last?
With this service your traffic will last for 7 days. Traffic will start within 1-24 hours of ordering and then run consecutively for 7 x 24 hours.
How Many Visits Do We Send in Total?
We will send around 10,000+ visitors to your site or URL. We always over deliver for good measure and good karma.
Is The Traffic Adsense Safe?
Yes! Social media traffic is the safest traffic there is. Repeat buyers can testify of that!
Is The Traffic Safe To Use on New Sites?
Yes. All our traffic is from social networking sites only which are highly recommended for SEO. Sometimes when new sites launch they can go viral overnight on social networks so it's perfectly safe.
Where Does The Traffic Come From?
The traffic comes from Facebook, Google+, Twitter, Pinterest, Tumblr, LinkedIn and several more from all around the world. About 80% will be U.S traffic the rest from world wide.
Can I Choose Where The Traffic Comes From?
If you wish you may specify which network to get your traffic from. Otherwise it will be a mixed bag with traffic coming from all sites.
Is There A Money Back Guarantee?
Yes. We guarantee to send you a minimum of 10,000 random social media visitors contractually in 7 days or we'll give you another 7 days free or refund you no questions asked.
Do you want to see your Analytics showing stats like these?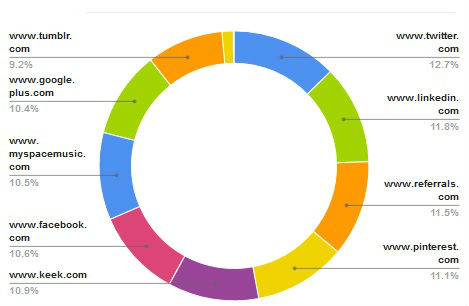 Then order now and they will!
Traffic will start within 1-24 hours.
To order send payment to:
trafficmastermike@gmail.com
.
Then PM me your URL!
Skype
:mike.mkcoy.